Serving Adams, Clark, Langlade, Lincoln, Marathon, Marquette, Portage, Taylor, Waushara, and Wood Counties of Wisconsin
Our Mission:
To enhance and support a quality early childhood education system by providing resource and referral services to families, child care programs, and communities.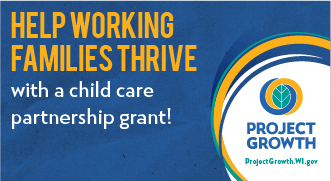 The Childcaring office is open Monday – Thursday, 8:30am – 4:30pm. We ask that visitors please wear a mask. Childcaring staff are available via phone or email, 8:30am – 4:30pm, Monday – Friday.
Childcaring is dedicated to providing quality child care information, and partnering with parents, care providers, business leaders, and community organizations to make quality care available to Central Wisconsin families.
• Serving as a resource to potential and existing regulated child care providers
• Helping families locate child care to meet their needs
• Working cooperatively to increase the supply of quality, affordable care